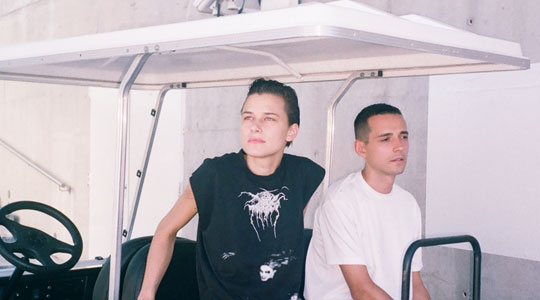 Easter's fuq'd future-pop can't pinned down. The Berlin-based duo is supremely unconcerned with labeling, leading others (as No Fear Of Pop notes) to designate their output as "post-human" or "post-gender."
Max Boss, from West Germany, met Norwegian tourist Stine Omar in Berlin in the mid-2000s. The pair began making videos together and formed a band called Euroshit, which would become Easter. Omar writes and delivers her strange lyric-poems in a variety of voices (from deadpan to a Kate Bush-esque warble) while Boss creates backing tracks with Ableton. Since 2011, the duo has self-released four albums, evolving from the no-wave-indebted Ur a Great Babe, in 2011, to the richer palette of sonic textures and obscure references on offer in 2014's New Cuisine Part 1 and subsequent Beige Eyes mixtape.
In 2014, Omar and Boss premiered Sadness is an Evil Gas Inside of Me: a serial melodrama narrated by Stones Throw affiliate Annika. That same year, they toured outside Europe for the first time, traveling to North and South America. In 2015, same year, they also supplied a remix for post-punk artist V, one of three acts cherry picked by Berlin Community Radio for Welcome to Berlin, the station's annual roundup of promising Berlin-based talent.