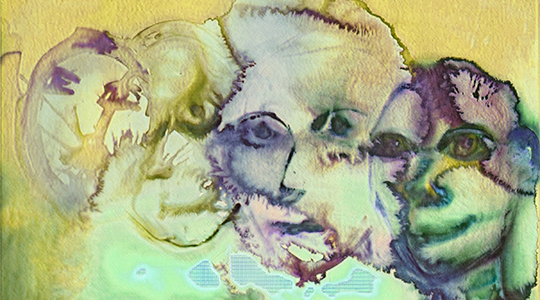 xin is a Berlin-based artist, writer, and musician, whose debut LP, MELTS INTO LOVE, is "a deliriously psychedelic record [that] slithers in and out of the brain with the visceral body horror of a David Cronenberg movie." (FACT) Released via Subtext this past September, the record mines fragments of neurofunk, hardcore, and dubstep to warp, mangle and strangle them into something anew.
MELTS INTO LOVE imagines new affinities, anxieties, and ecstasies in an age of noise, spectacle, and inundation. Released "biodigitally"—meaning all proceeds go to a reforestation project— and solely via independent platforms, the album evidences "[d]egraded dance & rave for our contemporary society of spectacle & excess." (AQNB) xin worked with Manchester's AYA (fka LOFT) on single "Spent, Wasted and Saved;" and with machine learning engineers Ash D'Cruz and Chris Tegho, as well as painter Gabrielle Bejani, to collaboratively develop the fiendish album art.
Their debut solo release, To Shock the Earth and Shake the Sky, was released via Subtext in 2018. Prior, they contributed to compilations on Genome 6.66mbp, Intruder Alert, and AN BA.
2019 also saw xin perform live at Berlin's Volksbühne, in support of Holly Herndon's PROTO launch; and Kraftwerk, for MaerzMusik's The Long Now, among others. They soundtracked Zach Blas' recent installation The Doors, and were a summer 2019 research resident at Trust, Berlin's space for utopian conspiracy and the (re)design of infrastructure.
---
xin is supported by SHAPE, which is cofunded by the Creative Europe programme of the European Union.