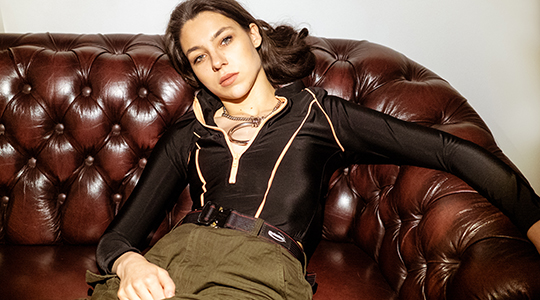 Brutaż and Jasna1 resident and Säule regular VTSS is the Discwoman-affiliated DJ and producer storming through techno. With releases on Intrepid Skin (run by SPFDJ) and Repitch (curated by Ascion, D. Carbone, and Shapednoise), VTSS has cemented herself with a reputation for unrelenting, suffocating takes on EBM, electro, acid, techno, and occasionally even hardcore.
VTSS has appeared on lineups alongside the likes of I Hate Models, Paula Temple, and DJ Stingray, among others, promising sets comprised of pummeling, jet-black sounds in tension with subtlety and balance. While she considers range and detail across her sets, she has become known as a DJ who reliably delivers unrelenting, high-octane energy, and a live performer who consistently offers raw and challenging sets. Her longstanding affinity for all things dark and demented is mirrored in her love for labels such as classic hardcore stalwart PCP, and Body Theory's recent ventures through inky techno.
The former law student changed trajectories after an impactful festival experience, dropping everything to study sound engineering, and to focus on DJing and producing. VTSS recently contributed to a compilation on Dax J's Monnom Black with "Atlantyda," a track inspired by a Polish synth-pop band's track of the same title. Soon, she is set to share the upcoming VARGTSS EP with Northern Electronic's Varg, which will see her experiment with her more sonically adventurous tendencies that often get eclipsed by her rapidly ascending techno career.
---
VTSS is supported by SHAPE, which is cofunded by the Creative Europe programme of the European Union.