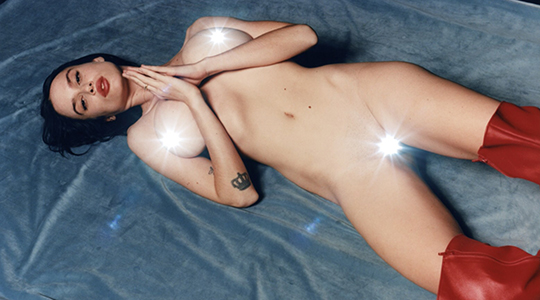 Virgen María is the musical and performance alias of Spanish artist Maria Forque, who spent much of her formative career in Madrid. As demonstrated on her debut EP on Perth Records, G.O.D., her music is an intoxicating blend of trap, reggaeton, hardcore, and techno, through which she explores spirituality and sex positivity.
Using social media, temporary body augmentations, and image editing tools, Virgen María has carefully curated her image, using familiar tropes across numerous digital subgenres to seduce. Her knowledge that her digital self folds into her live appearances are manifested through DJ sets and theatrical performances which recognise the body as currency and sexuality as agency.
Sonically, Virgen María manifests an ecstatic release between hard-pounding beats and ASMR vocals, luring audiences into meditative headspaces. G.O.D. (meaning 'Good Opening Drug') was co-produced by London based perth Daijing. The release, according to María, is built from "[e]ach song [a]s a journey, but it's danceable." As a female artist, María is aware of her position as a sexually provocative performer in a scene typically dominated by men. Her DJ sets aim to question the politics of the dancefloor, as well as create a spiritual union between the artist and crowd.
---
Virgen María is supported by SHAPE, which is cofunded by the Creative Europe programme of the European Union.