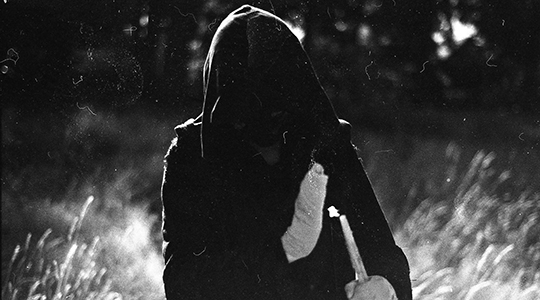 Thegn is a non-identity. An entity by the name of Joy portrays the base emotions of the human experience in impassioned forms, namely: rage, anxiety, and sadness. Thegn's host body was born in Vancouver, Canada, and began making industrial and noise music in the early 2010s.
As their musical and artistic interests developed, so did their ambitions of what industrial and dance music could sound like. Combining thick distortion, chaotic rhythms, and pained vocals, the heaviness of Thegn's music is suffocating.
They released their first LP, Loss, on Hong Kong's Absurd TRAX in 2019. Track "I Heard Your Voice" features PTP affiliated DJ and producer Dis Fig. The duo will be collaborating on a portion of Thegn's live performance for the first time at CTM.
In live sets, Thegn prefers to improvise and play entirely new, unrecorded material. Their performances differ from night to night, connecting with new audiences and setting off on new adventures with them. While their live sets are geared more towards the dancefloor, there is no absence of Thegn's signature screams, bizarre visual components, heavy instrumentation, warped samples, and desire to push the boundaries of audience interaction. All of this makes the experience unsuitable for the faint of heart.
Up until 2015, Thegn ran the Togetherism night in Vancouver, and co-ran Delete Yourself as well.