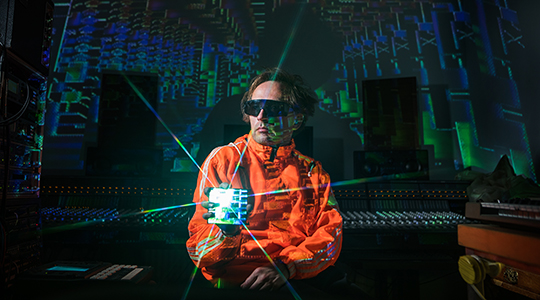 Tom Jenkinson, better known as Squarepusher, has been a stalwart of the British electronic music scene for over twenty years. His name has become near synonymous with Warp records. Fusing drum & bass with IDM and jazz, Squarepusher's live performances are known for immersive visuals and frenetic virtuosic bass, played by Jenkinson himself.
Jenkinson grew up in Essex where he began learning guitar, joining various bands playing bass. Squarepusher performs live on the release day of his forthcoming album, Be Up A Hello. His first record in five years, Be Up A Hello revisits a bewildering array of vintage analogue and digital hardware—the same equipment that helped him develop his sound in the early 90s. It nods to the mayhem, joyousness, and abandon of the DIY Essex rave scene that was so formative in his development.
The Squarepusher alias was first used for EP Conumber, released on Spymania in 1995. Jenkinson's first album was shared on cult label Rephlex, and was titled Feed Me Weird Things; the release marks the beginning of a long friendship between Jenkisnon and Richard D James. Follow up Hard Normal Daddy was his first with Warp, and saw him move away from jazz palettes and towards more epic and composed soundtrack-inspired work.
In 1997, Squarepusher released the EP Big Loada, which has since become a highlight of Jenkinson's discography. Making Pitchfork's list of the top 50 IDM albums, Big Loada was described as "intelligent, innovative and abstract, but it's mostly just huge amounts of fun." 2001's Go Plastic features Squarepusher's breakout single (of sorts) "My Red Hot Car," all but eschewing acoustic instrumentation for a more brutal, digital aesthetic.
More recently Squarepusher worked with organist James McVinnie on All Night Chroma, a collection of eight compositions. Originally recorded in 2016 at The Royal Festival Hall in London, McVinnie and Jenkinson liken the organ to contemporary electronic music production: "Sounds may be accessed by the touch of a button, such that sonic variety is achieved by mechanical means as much as it is by the performer's skill. In that way I see the organist as immersed in technology much more than performers of other acoustic instruments and, despite its long history, it thus seems an eternally modern instrument."