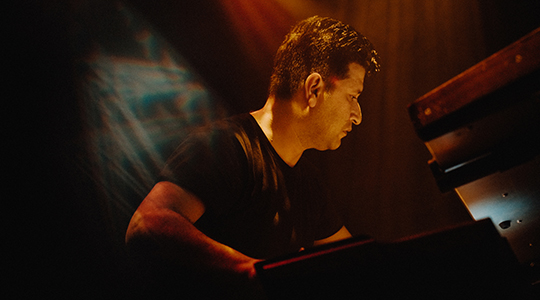 Rizan Said is a composer, musician, and producer who has contributed to hundreds of Syrian recording industry productions as well as compositions and themes for television and cinema. His first solo album, King Of Keyboard (2015) continues to receive critical acclaim internationally. Said's recent solo performances have brought the original dabke dance sounds of Syria to European festivals and concerts, keeping dancers on their feet until sunrise.

Rizan originally hails from the town of Ras Al Ain in northeastern Syria, in the region known as the Jazeera. A gifted player of percussion and reed instruments, Said was clearly a musical prodigy even before a wealth of synthesisers began flooding Syria in the late 1980s and early 1990s. Steadfast on the Syrian cassette album circuit at the time, Said was already sending his signals out from the Jazeera frontier, thanks to a partnership with local producer Zuhir Maksi.
His compositions and keyboard playing have been showcased through countless Syrian musicians, but none more famous than with Omar Souleyman. King of Keyboard, released by Annihaya Records, showed a wide breadth of styles, "from fiery dabke to beatless synthesizer poems" (Boomkat) across his virtuoso musicianship, central throughout the record.
His new album, Saz Û Dilan, was released in 2019, and sees Rizan performing with a host of emerging local singers for a presentation of 8 original uptempo dabke compositions.