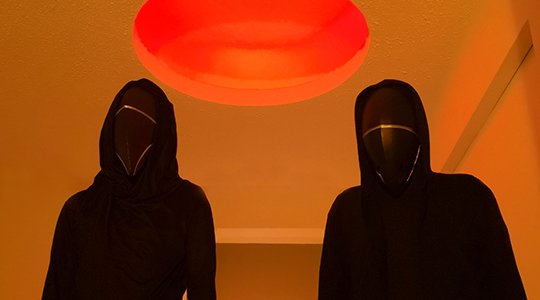 Mohammad, aka MMMΔ, have been forging their deep monolithic sound for the past decade, bringing together low frequencies, inter-modulations, dark textures, and distant folk nuances through custom made instruments and software.
Prolific in their output with 11 releases to date, including releases on Antifrost and PAN, their sonic arsenal is deployed impactfully in live settings, crafting a ceremonial experience through physical sound that evokes a wide emotional palette. MMMΔ is the duo of Nikos Veliotis and ILIOS.
Their best known record, Som Sakrifis, was released in 2013 to critical acclaim, with Tiny Mix Tapes remarking" "Whereas the term "drone" may have been given questionable press of late, particularly in conjunction with misguided EBow experiments and ambient mediocrity, Mohammad pump it full of scorched engine oil and set the whole downhearted business ablaze."
Their most recent record, Egoismo, was released in 2019, foregrounding folk and chant, and marking a more reflective, introspective edge.