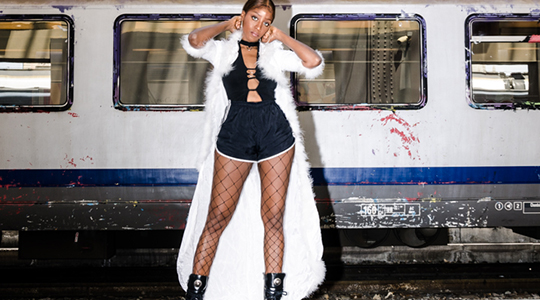 Moesha 13 is a DJ and producer based in Marseille, known for blending French hip-hop, hardcore, and reggaetón. A singer, her vocal work is found not only in her own productions but also on collaborations with Goro and RougeHotel.
With a focus on creating hybrid club tracks and mixes, Moesha 13 embodies an international and digital musical aesthetic which has been embraced by many artists in the underground scene. Moesha 13 made her first waves as a vocalist working with Douster for "En I (featuring Jeci Jess)" and "Respect" in 2017, and since then has been releasing her own productions on SoundCloud, such as "Red Bull," as well as contributing to compilations for labels such as Ashida Park and Teratoma.
Moesha 13's mixes are equally as exhilarating as her productions, bringing in a wide range of styles from gadjicore to Atlanta trap and even thrash metal. She has been featured on NTS, providing guest mixes for SCRAAATCH and Shutdown Berlin, and has brought her DJ set club nights and festivals around the world, most notably to Nyege Nyege festival in 2019.
Social politics intersect with Moesha 13's musical output; in her words, she "sets a decolonial and feminist stage for a soundscape filled with hybrid individuals who choose where they belong during a performance."
---
Moesha 13 is supported by SHAPE, which is cofunded by the Creative Europe programme of the European Union.