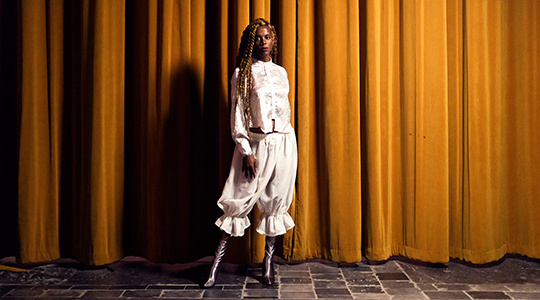 Artist, DJ, writer, and performer Juliana Huxtable is one of the most singular voices in the contemporary art world, drawing inspiration from the white cube as much as the dancefloor to explore complex socio-political issues, and using her body to pose questions to historical structures.

Originally from Texas, Huxtable moved to New York to study at Bard College, where she graduated in 2010. She began participating in the New York queer scene by hosting transgender inclusive parties known as SHOCK VALUE, with recent parties featuring queer DJs such as Shyboi, False Witness, and Joey Labeija. She shot to fame in 2015 after exhibiting new work for the New Museum's Triennial, and modeling for a 3D sculpture created by Frank Benson.
As a DJ, Juliana Huxtable offers dynamic DJ sets inspired by emerging forms of techno, hip hop, and experimental music, co-influencing artists and DJs like Total Freedom, Venus X, and the Janus crew. While being regularly booked at music festivals and club nights as a DJ, she has most recently begun touring a live performance entitled Triptych, an ensemble piece with musicians Joe Heffernan and Ahya Simone. Presented in three parts, Triptych explores the desired subject dissolving into their flesh through fear, joy, and excitation. Huxtable is also the author of Mucus in my Pineal Gland, a collection of her poems, performance scripts, and essays, which succinctly maps her critiques of gender, sexuality, whiteness through a historical scope.
For CTM 2019, Juliana Huxtable will be participating in the inaugural edition of LSDXOXO's new night, Floorgasm—a queer-centric party focusing on unyielding sounds.