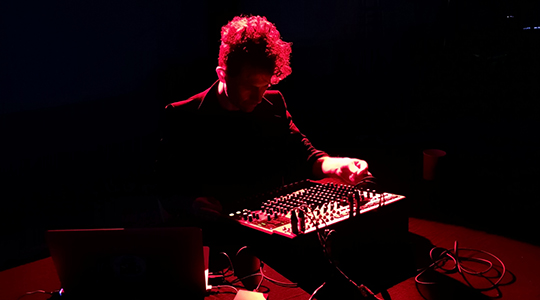 Jacob Kirkegaard explores ways to reflect on immediate complex, unnoticed, or unapproachable aspects of the human condition or civilisation. Born in 1975 in Denmark, Kirkegaard began releasing DIY tapes as part of a punk band in the late 1980s, before graduating at the Academy of Arts and the Media in Cologne in 2006.
Based in Copenhagen, Kirkegaard has presented his works at galleries, museums, and concert spaces including MoMA in New York, the Museum of Modern Art in Louisiana, the Museum of Contemporary Art in Denmark, KW in Berlin, and the Mori Art Museum in Tokyo, among others. He is a founding member of the sound art collective freq_out, and in 2016 he was the sound artist in residency at St. John's College, University of Oxford.
Kirkegaard's focus on the musical potentials of derelict, dangerous, and violent spaces have resulted in the creation of varied ambient works that examine subjects such as Fukushima and Chernobyl's nuclear radioactivity (4 Rooms, 2006), the melting ice in the Arctic (Isfald, 2013, MELT, 2015) and the borders of Palestine (Through The Wall, 2013). He has worked with numerous record labels that have shaped electronic music in recent times, including Touch, Important, and Posh Isolation, where he released Imperia with Tobias Kirstein (2012) and 5 Pieces (2015)
His latest work Opus Mors (2019), released on Topus, consists of four unique pieces across a four-LP collection, portraying four environments immediately after death: a morgue, an autopsy, a cremation, and decomposition. The pieces were recorded at various sites with Kirkegaard overseeing the careful documentation of each process, with the assistance of professors in forensic medicine at the University of Southern Denmark, Odense Crematorium and the Forensic Anthropology Centre at Texas State University.