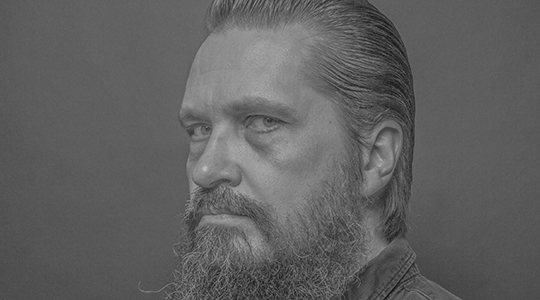 Deathprod is the musical project of Norwegian musician Helge Sten, which began in 1991. The dark ambient deity released his first album in 15 years in 2019, titled Occulting Disk. Sten has summed up his practice as an "audio virus," defined as creating soundscapes with "homemade electronics, old tape echo machines, ring modulators, filters, theremins, samplers and lots of electronic stuff."
The first Deathprod transmission arrived as the self-released Deep Throat Puke Orgasms, a tape limited to 17 editions. In 1994, Treetop Drive was released on Metal Art Disco, followed by Imaginary Songs From Tristan Da Cunha in 1996. Across the decade, Sten also produced two collaborative records with Origami Arktika.
Considered an open-ended project, Deathprod's grainy minimalism and shadowy atmospherics cast a long shadow over the 1990s. According to The Wire, Sten's "burgeoning drones move relentlessly forward at glacial pace, while ominous crashing and echoes of ghostly choirs are heard from the horizon."
Before his hiatus, Sten had teamed up with Rune Grammafon to re-release his records from the 1990s, as well as a new unsettling album, Morals and Dogma, in 2004.
Deathprod's new album Occulting Disk is an anti-fascist ritual. Accompanied by liner notes by Will Oldham as a reflection on confronting fear and hatred, the album marks "an unmissable jump-off point into supernatural, metaphysical dimensions, and one of those rare records that really puts everything else into perspective in light of its radical nature." (Boomkat) Deathprod rarely performs live, however each event promises to be remarkable.