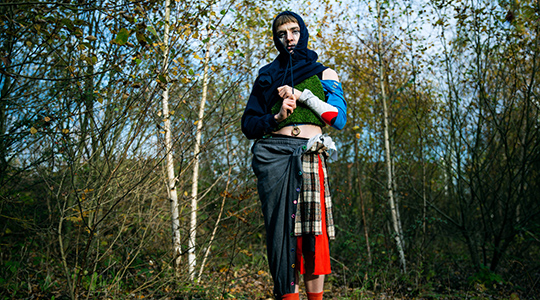 With a style seemingly forged by the chaotic cultural mish-mash of the internet, Manchester-based AYA (fka LOFT) is equally at home mashing up the dance, unleashing pop-tinged tearjerkers, and shouting at unwitting audience members.
Her recent Tri-Angle EP, and departt from mono games, "runs the gamut from threatening-aura electronics, the type subjecting a putative crowd of sweatjuiced ravers to would be frankly sadistic, to pulsating turn-on-a-sixpence breakbeat overload." (The Quietus) 2019 also saw her make appearances on Air Max '97's Falling Not Walking and xin's MELTS INTO LOVE, in addition to releasing tracks via boygirl—the Manchester-based queer-dominated collective she appears in alongside Iceboy Violet, MICHAELBRAILEY, and more.
In 2018, she shared an edit pack titled ell oh eff tea too oh won ate, which features her own takes on Ariana Grande, IC3PEAK, Mark Pritchard, and Beethoven, among others. The assortment of bootlegs effortlessly blends feelsy melodies with dopamine-inducing hooks and a reliably wry sense of humour to boot.
AYA is also known for previous releases such as 2017's Three Settlements Four Ways on Wisdom Teeth and 2016's Turbulent Dynamics on Astral Plane, the latter of which was later supplemented by remixes from Acre, Szare, and Alis, among others. AYA can be heard monthly on NTS 2.