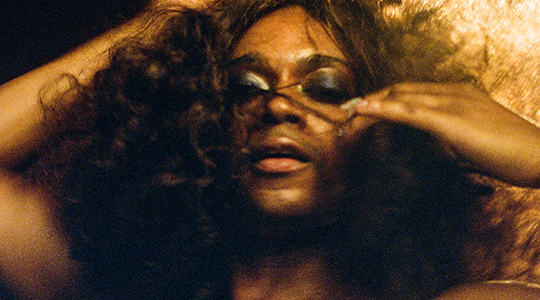 Lotic is DJ and producer J'Kerian Morgan. Raised in Houston, Texas, they studied electronic music composition and saxophone at university before moving to Berlin, where they helped form the city's famed Janus collective. In recent years Lotic has cemented their position as one of adventurous club music's most original voices.
They first emerged with a series of EPs on Janus, Sci Fi & Fantasy, and Tri Angle. Razor-sharp production was heard on the pivotal Agitations (2015), which acted as a precursor to their debut LP. Released in 2018 via Tri Angle, first full-length Power is an interrogation of the many ways in which authority and influence can be expressed and experienced. The record retains the artist's intense inquisitive nature, while experimenting further with nuance production. Across 11 tracks, the record grapples with empowerment, struggle, growth, and resilience, articulating "a battle cry for the queer community" (Resident Advisor). As it navigates identity and genre, Power is grounded in Lotic's love of Texan marching bands, and Ta-Nehisi Coates' Between The World And Me.
In addition to their singular productions, Lotic is also known for an inflammatory, influential DJ style that is now central to Janus' reputation. Their sets weld together warped R&B, caustic noise, and a sweeping assortment of other sounds. Morgan's Berlin-via-Houston taste is an apocalyptic mix of haunting melodies, destructive rhythms, and skewed sonic experiments.
From Berlin's Janus nights to New York's GHE20G0TH1K, Lotic has appeared all over the world. They perform live both as a solo artist, and together with choreographer Roderick George. They have collaborated on famed pieces Fleshless Beast and Embryogenesis.