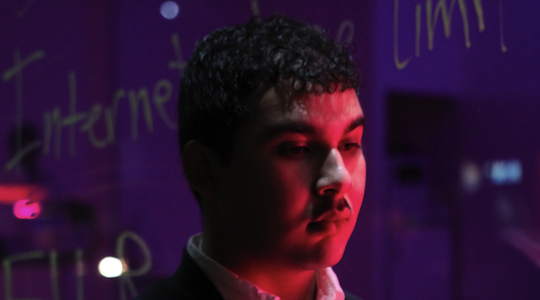 Timur Tokdemir aka Mechatok hails from Munich but now calls Berlin home. This rising producer is a crucial member of Staycore, the groundbreaking Stockholm crew that's been disturbing the order of the music industry. Mechatok is also a regular at Bala Club, a notorious London club night and label run by Uli K and Kamixlo.
Mechatok's originality can be heard in cuts like "Day Lite" off the new Staycore compilation Erelitha; "Still Life," written together with Staycore classmate Toxe for the Kenzo FW 16 prints collection; or the instrumental "Schemin," featuring Uli K and Yung Lean. Uli K's EP Elusivo included two tracks produced by Mechatok: "Wish" and "Fix Up." The two frequent collaborators followed up their studio efforts with the delightfully chill single "Cold," published in September. This past October, Tokdemir released his own five-track debut EP, See Thru, on Staycore. Its heavenly arrangements compose a hyperreal, post-internet emo ballad. The title track is accompanied by a video shot by Benjy Keating aka Palmistry on a grandiose staircase somewhere in Athens.

Mechatok's innate musicality can be traced back to his training as a classical guitar player, and his tracks are marked by tributes to the instrument's timbre. In his DJ sets, Mechatok juggles club music, melodic pieces and rap to convey feelings from vulnerability to bliss. In January 2016, FACT Mag named him one of the top ten producers to watch in 2016. Mechatok is working on new solo releases and collaborations. Aside from several shows in Europe, Tokdemir recently completed his first tour of South America with Toxe. The tour included dates in Montevideo, Maldonado and at Rio de Janeiro's Novas Frequências.