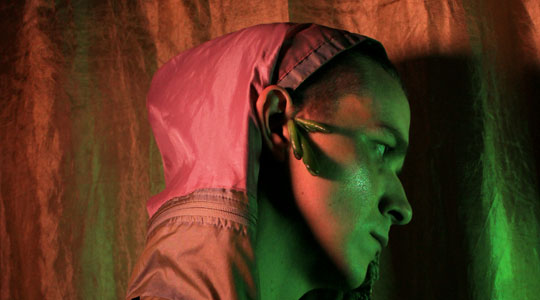 The diverse releases by Trømso, Norway's Jon-Eirik Boska have been testaments to the producer's trustworthy adaptability and keen ear. His prolific career has resembled a tour through, and mastery of, related but distant genres and styles: left-field house, vibrant techno, post-bass, nu-funky, future grime. Shesick, his latest EP on Trax Couture, balances intuition and inventiveness to channel ghetto house, ballroom and grime through the time scope of techno.
Boska began producing sparse UK-influenced house in Tromsø, Norway's infamous techno capital, led by DJs and promoters out of music school and into the city's night clubs. He has released three EPs of bassy, lithe house on Mental Overdrive's Love OD Communications (also home to Bjørn Torske, Charlotte Bendiks and Le Petit Garcon): the 2011 12" Arrival/Extraperrenial, the 2012 Without Love, which struck "a careful balance between swollen analog synths, overdriven drum machines and atmospheric vocal samples" (Resident Advisor) and 2013's Surgery. On a split 10" with Pedrodollar on Axel Boman's Stockholm label Studio Barnhus, Boska dropped the bouncy analogue jam "British Funk Museum Article no. 808," which was played by Julio Bashmore on his BBC Radio 1 show. His ensuing releases included the Submarine EP on Permanent Vacation, Santa Cruz EP on Studio Barnhus, Interiors EP, again on Love OD, and the Cascades EP on Bergen's Balsa Wood.
Boska attended the 2011 Red Bull Music Academy in Madrid, where he collaborated with Nguzunguzu's Asma Maroof on the hyped track "Sicka." After relocated to Berlin, Jon-Eirik joined the ethereal post-dubstep Fiordmoss as a drummer and producer. At CTM 2017 he will contribute percussion to long-time friend Charlotte Bendiks's live set in addition to presenting his own new material.
---
Boska is supported by the 2017 SHAPE platform, co-funded by the Creative Europe programme of the European Union.