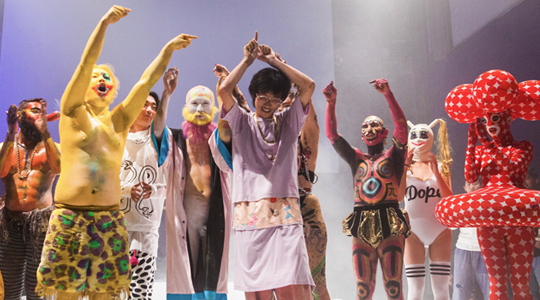 The kitschy, neon grotesquerie of Chinese artist Tianzhuo Chen takes its cues from a sprawling range of influences—from LGBTQ hip hop to the London rave scene, Japanese Butoh, New York vogue, manga, and the fashion world.
Chen earned his degree in graphic design from the Central St Martins College of Art and Design in 2009, and went on to obtain an MA in Fine Art from Chelsea College of Art and Design in 2011. Working across the mediums of painting, drawing, installation, video and performance, Chen borrows and corrupts religious and pop-culture iconography to generating new systems of meaning and subversive, hyper-sexualized representations of global youth culture. "Our fascination with pop culture is really like some kind of worship," he says. "I create ephemeral temples in different places in order to question the fragility of our contemporary lives and dwindling morality and beliefs."
Chen's first solo exhibition was presented at Palais de Tokyo in Paris in 2015 and featured performances with artist and dancer Beio and French collective House of Drama. Other recent projects include "PICNIC PARADI$E BITCH" at Bank Gallery, Shanghai (2014) and "Tianzhuo Acid Club" at Star Gallery, Beijing (2013), and he has worked on collections shown during Fashion Week in London and Shanghai. He currently lives and works in Beijing.