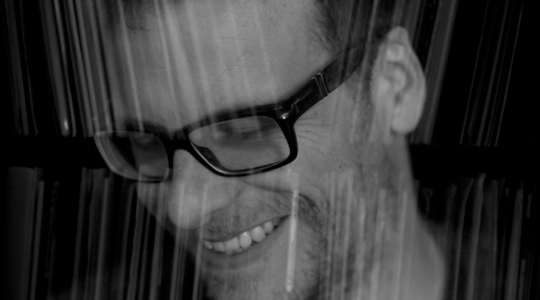 Markus Lindner (a.k.a Delfonic) is the manager of Berlin's OYE record store. He began DJing in 2004 and has since become a fixture of the local dance music scene, playing, in his words, "every single club, shack, and party in the city, and quite a bit in Germany and the rest of Europe too."
A resident DJ at local clubs Gretchen and Farbfernseher, Lindner's sets sample from his earliest musical obsession (hip-hop) and incorporate reggae, house, jungle, and UK bass. Lovis Willenberg founded the flagship OYE store in Prenzlauer Berg around 2001 with one ear toward the funk, soul, jazz, and Brazilian music he loved. When Lindner joined the crew a few years later, the store was becoming a base for emerging producers in Berlin such as Max Graef, Glenn Astro, and the Giegling crew. These days, OYE also stocks disco edits and 90s house reissues, and its extended family has expanded with the opening of a second location in Kreuzkölln.
Lindner not only plays and sells records—he also manages Box aus Holz, Torben, and Money $ex Records: three imprints clustered under the OYE Records umbrella. He's also been involved with myriad other independent labels, including Disco Halal, his new project with Moscoman that showcases original dance music from the Arab world. So far, the label has collected originals and edits from artists like Acid Arab, Memhet Aslan, Red Axes, Naduve, Kaan Duzarat, and fellow CTM 2016 artist Autarkic.