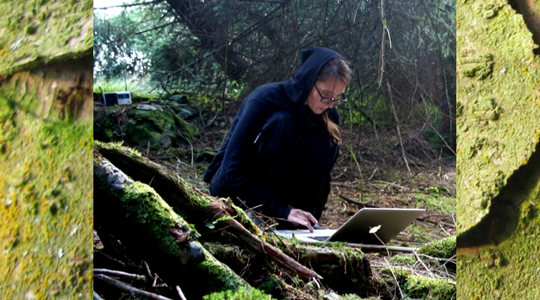 Antye Greie-Ripatti, i.e. AGF or poemproducer, has produced a formidable amount of output stretching across exhibitions, soundtracks, mixes, performances, and releases. Born in East Germany, she has been living and working in Hailuoto, Finland since 2008.
Greie-Ripatti describes herself as a vocalist, digital songwriter, producer, performer, e-poet, calligrapher, and digital media artist. Her first album, HEAD SLASH BAUCH, explored new digital technologies and converted HTML and software handbooks into electronic poetry and experimental pop. Since then, she has released 29 LPs and numerous collaborations under the aliases AGF, AGF/Delay (with Vladislav Delay), Greie Gut Fraktion (with Gudrun Gut), and The Lappetites (with Kaffe Matthews and Eliane Radigue) and with the award-winning classical composer Craig Armstrong. Other past projects include the German electronic duo Laub, The Lappetites, THE DOLLS (with Vladislav Delay and Craig Armstrong), and Zavoloka/AGF. She runs the label and production unit AGF ProduKtion, which has released the work of Quio, Zavoloka, Laub, AGF/Delay, and Craig Armstrong. In 2011, Greie-Ripatti founded the arts organization Hai Art in Hailuoto and since then has acted as its artistic director, executive producer, and workshop leader. As active member of female:pressure she has initiated the VISIBILITY compaign, realised the Nergirls collection and mix as well as the "Solidarity & Awareness with Rojava" campaign.
Recent projects include her latest LP, SOLIDICITY, a performance entitled "Unlistening White Feminism", #DISembTEChyb radio for Documenta 14, and a release with collective Monika Werkstatt. Her own work has appeared at Transmediale Berlin, Sonic Acts Amsterdam, Sónar Barcelona and ICA London, among others. She has collaborated with many artists, including Kaffe Matthews, Ellen Allien, and the drone pioneer Eliane Radigue.