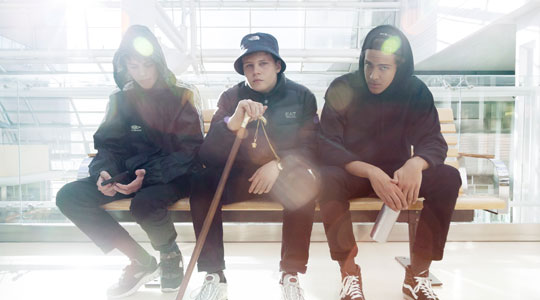 19 year-old Jonatan Håstad is Swedish rapper Yung Lean, gone viral since his "Ginseng Strip 2002" video reached over 2 million views on YouTube in 2013. Earmarked as "a pit bull in a fun-house mirror of hip-hop mannerisms" by The NYTimes, he is the ringleader of a clan of beatmakers and producers that go by the name of Sad Boys.

Håstad met Yung Sherman and Yung Gud in a local Stockholm park, and with their discovered common interest in hop-hop, the trio went on to form "Sad Boys", with Yung Gud and Yung Sherman producing and mixing music and Yung Lean writing and recording the lyrics.
Yung Lean released his 2013 mixtape, Unknown Death 2002, to YouTube under his label pseudo label Sad Boys Entertainment. Ginseng Strip 2002 becoming an internet sensation with Vibe Magazine including the Unknown Death 2002 mixtape in their "The 10 Most Overlooked Debut Rap Mixtapes of 2013," and FACT magazine reviewing it as "a logical continuation of Clams Casino and Beautiful Lou's innovative techniques, emerging with thick, melancholy numbers that drip with a rare and earnest allure."
Emilio Fagone, the Stockholm club promoter who is also Yung Lean's manager, can probably be to thank for the tours that followed, including the White AND Black Marble Tours in 2014 across North America, and 24 cities in Europe. Yung Lean's first full-length album Unknown Memory was released in September of 2014. The music is marked by blasé molded rhymes portraying suburban isolation over trappy hihats and moody bass lines; an emotional teenage laser tag melancholia. Lean props himself on the lyrical exposure of pop culture that surrounds his youth.
The Gravity Boys are a overlapping hip-hop posee featuring Yung Sherman (of Sad Boys), visual artist Ecco2k, Thaiboy Digital and Whitearmor. They've described their sound as It features Yung Sherman, Ecco2k, Thaiboy Digital and Whitearmor. Vice has described their sound "like it came straight from 1992 with a can of kool-aid and despair." They frequently perform together with the Sad Boys.