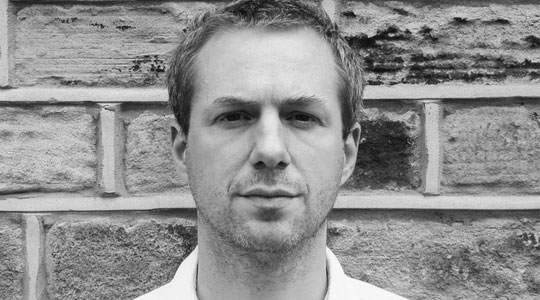 Pierre Alexandre Tremblay is an electroacoustic composer that teaches composition and improvisation at UK's University of Huddersfield, while also recently holding a guest professorship at the Department of Audio Technology at the Technical University Berlin. Tremblay uses bass guitar and sound processing devices, performing solo or as a member of the contemporary jazz trio "ars circa musicæ".
Born in Montreal in 1975, Tremblay studied music theory and bass guitar from an early age, eventually earning a BA at the Université de Montréal and finishing his doctorate in Music at the University of Birmingham in 2005. His exploration of improvisational music in the 1990s led to the formation of the jazz ensemble iks in 1996. Directed by Tremblay for 11 years, the band has released seven albums.
Tremblay has lectured in Composition at the University of Huddersfield since 2005, where he is also Director of the university's electronic music studios, themselves home to the 48-channel Huddersfield Immersive Sound System. As the recipient of the Edgard Varèse Guest Professorship for Computer Music in conjunction with the Department of Audio Technology at the Technical University Berlin, he has been extending critical reflection on computer music in the cultural context of Berlin. Tremblay is also interested in video-music and coding, sometimes developing sound design programs, and alternatively works in-studio as a producer for pop oriented projects.