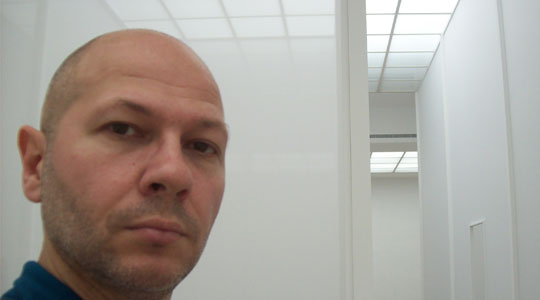 Lucio Capece is an Argentinian-born musician based in Berlin since 2004. His installations include the use of noises and pitched sounds, with the intention of drawing attention to surrounding space and the perceptual experience. In groups, Capece plays electro-acoustically improvised music, with instruments of choice including the soprano saxophone, bass clarinet, and the Shruti Box.
During his younger years in Buenos Aires, Capece was classically trained in guitar and jazz, later coming to favour reed instruments and compose with groups like Avion Negro and Casual. His unconventional solo performance tools now include helium balloons, pendulums, synthesizers/noise-generators, and Ultra-Violet Lights. As proclaimed in his interviews, Capece conceptualizes sound as "a living creature", and his work tends to dig into the stages of its vibrational production, to spatial travel, and to perception.
Capece's investigative spirit has led to longer-term projects: collaborating with Mika Vainio on the Trahnie release off Editions Mego, and a solo CD by the label Potlatch, called Zero plus Zero, which was four years in the making. He has performed with artists such as Radu Malfatti, Toshimaru Nakamura, Axel Dörner, Kevin Drumm, Rhodri Davies, Julia Eckhardt, Phill Niblock, Pauline Oliveros, and with the Q-O2 Ensemble, and tours internationally with invitations at festivals like Todays Art (The Hague), Dis-Patch (Belgrade), Experimenta (Buenos Aires), All Ears (Oslo, Norway), and more.