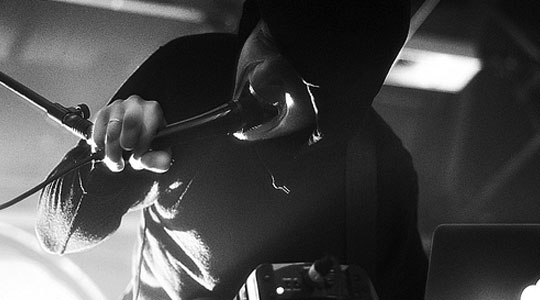 Ever since he first appeared at the age of 16, as guitarist with UK Grindcore pioneers Napalm Death, Justin Broadrick has garnered decades of respect as a singer, instrumentalist, producer, and general musical visionary behind Godflesh, Techno Animal (with Kevin Martin), Final, and Jesu among throes of other accomplishments. JKFlesh is one of Broadrick's first solo reinventions.
All of Broadrick's seminal projects warp the straightjacket of metal as we know it, alloying it and scaring off purists with elements of hip-hop, jazz, dub, drum n bass, power electronics, or drone. With JK Flesh, Broadrick renders Godflesh's sound anew, infusing its signature distorted guitar riffs and washes of feedback noise with programmed beats that owe much to recent techno and UK bass music, but ultimately inducing equally disquieting moments of bleakness and exhaustion. JK Flesh is considered to be the first truly solo Broadrick projects, born of a closeted hip-hop nickname cast by Kevin Martin during their Techno Animal alliance.
Back in Birmingham, Broadrick's first band was FINAL, spawned at the age of only 13, and inspired by the wreckage of industrial legends like Throbbing Gristle and Whitehouse. Toying with primitive music tools found stacked around his family environment, novice Broadrick went on to release over 50 noise cassettes on his own 1984 cassette label, Post Mortem Rekordings. Shortly afterwards Broadrick joined and left Napalm Death. Godflesh then appeared, a marriage of distortion guitar and electronically propelled drum machine rhythm,inspired by Broadrick's own hip-hop inquiries.
Broadrick has remixed for groups like Pantera, Isis, and Mogwai, and maintained numerous record labels including HeadDirt, Avalanche Recordings, Lo Fibre, and his most recent, Heartache. The first album under the JKFlesh monicker was called Posthuman and released in 2012, followed by a split release between JK Flesh and Prurient in 2013.