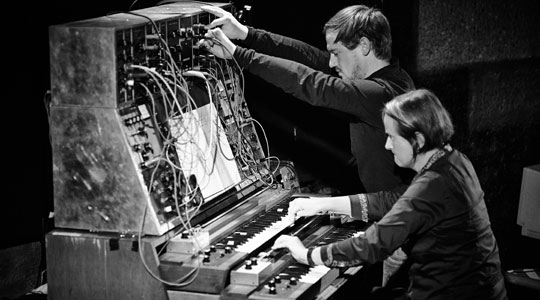 Elisabeth Schimana is an Austrian composer and performer that has worked in experimental music composition and radio since 1983. Schimana has initiated projects for Austria's ORF Kunstradio and the Theremincenter Moscow. She is also the founder of the IMA - Institute for Media Archaeology. Her work often approaches topics of space, body, and electronics.
Schimana was born in Innsbruck, Austria, and went on to study electro-acoustics and experimental music at the University of Music and Performing Arts in Vienna, musicology and ethnology at the University of Vienna, computer music composition at the IEM (Institute for Electronic Music) in Graz, and was a visiting scholar at York University's Music Department. Her recent research at IMA focuses on women in the field of electronic music.
Schimana's numerous artistic residencies have included cities like York, Keele, London, Amsterdam, Oslo, and Moscow. In 2012 she received an award for composition from the Austrian Ministry of Culture, and in 2013 the Appreciation Award from lower Austria for media art. She frequently lectures internationally and was a jury member for the Prix Ars Electronica in the category of digital music, in 2006.