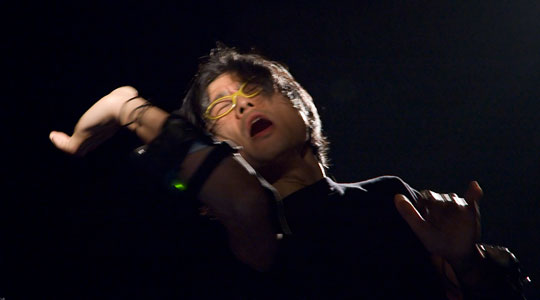 Atau Tanaka creates music for sensor instruments, mobile infrastructures, and democratized digital forms. He studied Physical Sciences at Harvard and has a doctorate in Computer Music Composition from Stanford University's CCRMA, and was awarded the Prix de Paris to conduct research in Paris at IRCAM, Centre Pompidou. Tanaka's first inspirations came upon meeting John Cage during his Norton Lectures, after which he eventually went on to re-create Cage's "Variations VII" with Matt Wand and :zoviet*france:.
In the 1990s Tanaka formed Sensorband with Zbigniew Karkowski and Edwin van der Heide, before he moved to Japan, where he played with Merzbow, Otomo, and KK Null. His work has been presented at NTT/ICC Tokyo, Ars Electronica, transmediale, Eyebeam, Wood Street Gallery, and SFMOMA. He has been artistic ambassador for Apple, and was the first artist to be engaged as researcher at Sony Computer Science Laboratory (CSL).
Tanaka's work has been supported by the Daniel Langlois Foundation, UK and French research funding bodies, and the European Research Council (ERC). He has been mentor at NESTA, Artistic Co-Director of STEIM in Amsterdam, Director of Culture Lab Newcastle, and is currently Professor of Media Computing at Goldsmiths University of London, where he is member of the Embodied AudioVisual Interaction research group.