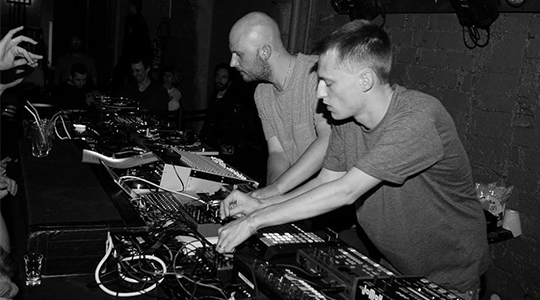 TR\\ER is the collaborative project of Tom and Edward Russell, aka Truss and Tessela, coupling the acid-laced techno of the former with the bass-heavy breakbeats of the latter. Together, the brothers assemble a slew of analogue gear for all-live sets fusing the raw elements of their respective solo production styles.
The London-based producers have also leveraged their musical alliance – the earliest of which, a Tessela remix of Truss' "Osbasten" from his debut EP of the same name on Perc Trax – into creating their Brothers imprint, which serves as a platform for both their own releases and for favoured artists to collaborate and create outside their comfort zones. Their debut EP for the label, UC / Multiple Visions, was released in 2012 and also features a track from Tom Dicicco as TD and AnD as AD.
Tom Russell has been releasing music as Truss and MPIA3 since 2007. Growing up in rural Wales, his early exposure to music came in the form of secondhand rave culture from older friends, UK hardcore, and classic house, but he ultimately fell for hard techno exemplified by Ostgut Ton. Following early releases issued in collaboration with Donor aka Greg Schappert on labels such as Dumb Unit, Synewave, and Thema, his primordial techno as Truss has been released via Miniscule, Perc Trax, and Sigha's Our Circula Sound, and as the more acid-inclined MPIA3 for Shifted's Avian imprint and R&S Records. He was also commissioned to release Stroboscopic Artefacts label head Lucy's "Eon".
Ed Russell got his early exposure to dance music via older brother and techno producer, Tom; at 11, he had already procured a pair of decks and was secretly raiding and ripping the latter's record collection. In Leeds, where he moved to study for a degree in music technology, dubstep was at the fore in the music scene, and the Hessle Audio crew was beginning to gain notoriety. But from his first release, the influences of dubstep, drum & bass, and jungle are all present in his productions as Tessela, however his style has come into its own across a spate of 12"s for All City Records, Audio Culture, Punch Drunk, 2nd Drop Records, and R&S Records. "Hackney Parrot", his inaugural single for his own Poly Kicks imprint, exemplifies this signature sound with hard-hitting breakbeats, asymmetrical grooves, and allusions to UK rave. The label has also issued releases from Kowton and Truss/MPIA3.