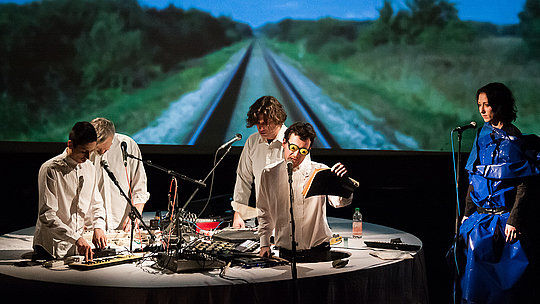 The First Latvians on Mars (Latvian - Pirmie Latvieši uz Marsa) is a new wave psychedelic band created as a tribute to the iconic Latvian avant-garde artist, musician and architect Hardijs Lediņš, founder of the pioneering Riga-based Soviet-era artist group, NSRD.
FLM is made up of Latvian musicians working with experimental electronics: Gas of Latvia (Andris Indāns), V.S.K.B. (Stropu Juris), TV MASKAVA (Normunds Griestiņš), Toms Auniņš, and Annaki (Anna Ķirse). Early on, FLM focused on using authentic musical instruments used by NSRD in the 1980s such as Casio Vl Tone, Latvian soviet produced electronic drums Elsita, RMIF synthesizers and other lo-fi Yamaha or Casio synthesizers. More recently the band is uses contemporary gear, still keeping the focus on the aesthetics of 1980s experimental new wave music, performing in costumes and using videos during their live performances.
Their debut album, First Latvians on Mars, was released on Bandcamp in January 2014.