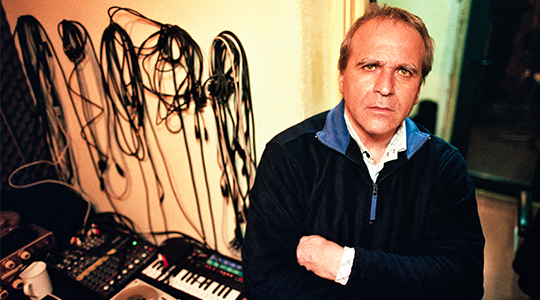 The music of Rodion G.A. has, until recently, remained unknown to most of the world. The group was formed in Romania in 1975 by Ladislau Roșca with Gicu Fărcaș and Adrian Căpraru, and used Tesla reel-to-reel tape machines to layer sounds and construct a unique stylistic hybrid of electronic music, psychedelia, and progressive rock.
Due to a 1971 state regime shift in the country, inspired by the communist policies of North Korea that imposed censorship on artistic production, only two Rodion G.A. tracks ever saw official release, both on state-run label Electrecord's Formatti Rock Vol. 5 compilation. The band performed throughout the 80s and composed scores for the film Delta Space Mission and the Romanian National Opera, but the majority of their work remained suppressed, despite avoidance of explicitly political content and the overwhelming popularity of their radio-only singles.
In recent years, Romanian filmmaker Luca Sorin began collecting rare film footage of the band, together with experimental music collective Future Nuggets, resurrecting interest in the enigmatic Roșca and the story of Rodion G.A. In June 2012, Rodion G.A. performed at the Transylvania International Film Festival in Rosca's hometown of Cluj, Romania. The Lost Tapes, a compilation of remastered original Rodion G.A. reels, was released in May 2013 on Strut Records, increasing interest in the musician outside his home country. The release was issued in conjunction with Future Nuggets and Steve Kotey's Ambassador's Reception label, on which Future Nuggets' LP Sounds Of The Unheard From Romania came out in 2012.
Rodion G.A.'s appearance at CTM 2014 marks their first performance outside the Iron Curtain.