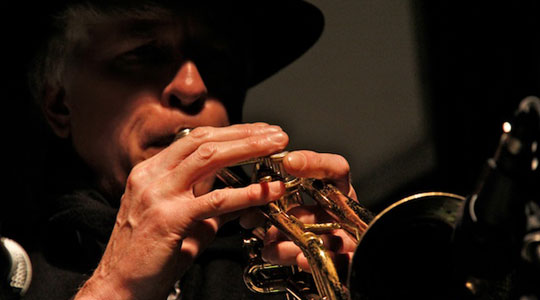 Rhys Chatham is a composer, guitarist and trumpet player from Manhattan, currently living in Paris, who altered the DNA of rock and created a new type of urban music by fusing the overtone-drenched minimalism of the early 1960s with the relentless, elemental fury of the Ramones — the textural intricacies of the avant-garde colliding with the visceral punch of electric guitar-slinging punk rock.
Starting with Guitar Trio in the 1970s and culminating with A Crimson Grail for 200 electric guitars in 2009, Chatham has been working for over 30 years to make use of armies of electric guitars in special tunings to merge the extended-time music of the sixties and seventies with serious hard rock. Parallel with his rock-influenced pieces, Chatham has been working with various brass configurations since 1982, and recently has developed a completely new approach to collaborations, improvised and compositional pieces involving trumpet through performances and recordings that started in 2009. Chatham's trumpet work deploys extended playing techniques inherited from the glory days the early New York minimalist and 1970s loft jazz period.
Rhys was introduced to electronic music and composition by Morton Subotnick in the late 1960s, and in the early seventies he studied composition with La Monte Young and played in Tony Conrad's early group. These composers are, along with Terry Riley, the founders of American minimalism and were a profound influence on Chatham's work.
Chatham's instrumentation ranges from the seminal composition created in 1977, entitled Guitar Trio for 3 electric guitars, electric bass and drums, to the epoch evening-length work for 100 electric guitars, An Angel Moves Too Fast to See, composed in 1989... all the way to Chatham's recent composition for 200 electric guitars, Crimson Grail, which was commissioned by the City of Paris for the Nuit Blanche Festival in 2005. A completely new version of the piece was commissioned by the Lincoln Center Outdoor Summer Festival in 2009.
---
Bio taken from rhyschatham.net/.