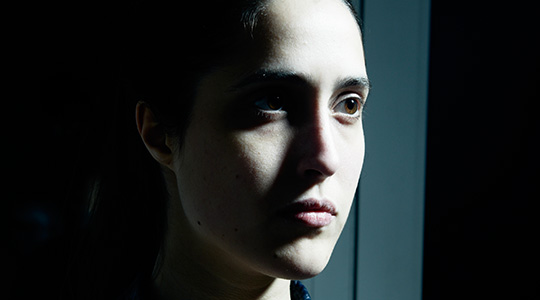 Helena Hauff has an aptitude for carbonizing dancefloors, cutting from dirty acid, Chicago house, and new/cold wave with devastatingly on-point dexterity. The Hamburg native honed her skills as a resident at the infamous Golden Pudel club, where she runs her own night, Birds and Other Instruments.
Hauff bought two turntables and began accumulating records after first experiencing an all-vinyl techno warehouse set. Her style, inspired by Drexciya, the Bunker, and the rough-edged electro scene in The Hague, builds off fundamental sonic forms and technics for maximum direct dancefloor impact in compressed dives like the Pudel, but no less effective on the scale of Berlin's Berghain.
She gained widespread critical recognition in 2013 with a debut solo 12", Actio Reactio, on Actress' Werkdiscs imprint, and the limited edition Obscure Object mixtape on Blackest Ever Black sublabel Krokodilo Tapes. Her collaborative EP with fellow PAN artist F#X as Black Sites, Prototype (PAN), nods to early electronic pioneers, with raw, one-take analog techno extracted from Hauff's collection of vintage synths. Hauff has also recently begun collaborating as part of a new reincarnation of Hypnobeat, a project begun in the 1980s by James Dean Brown. She performs both solo and as Hypnobeat at CTM 2014.