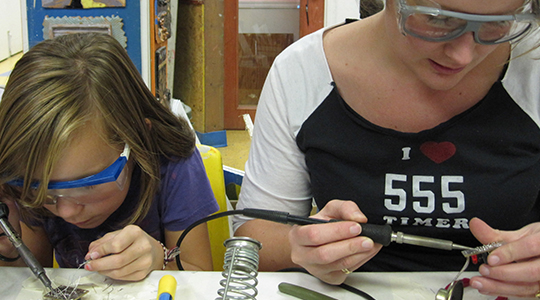 Darsha Hewitt is a Canadian artist based in Montreal. Recent presentations of her work include: Modern Art Oxford (UK), WRO Media Art Biennale (PL); Edith-Russ-Haus für Medienkunst (DE) and MUTEK (CA). In summer 2013 her first solo exhibition was co-produced by Skol and The Elektra Festival in Montreal (CA).
Hewitt was nominated for the 2013 Marler European Sound Art Award and recently completed a Fellowship in the Sound Art programme at the Hochschule für bildende künste, Braunschweig (DE). In 2011 she was awarded a work stipend from The Edith-Russ-Haus for Media Art, Oldenburg (DE). Alongside her artistic practice she is a technologist, consultant, and educator. Her DIY electronics workshops have been presented internationally and she frequently works with international production studios, digital arts organizations, media labs, and universities.
Darsha is currently an MFA candidate in Open Media at Concordia University and a Research Assistant at Hexagram: Centre for Research-Creation in Media Arts and Technologies. She is also a member of Perte de Signal – one of Québec's leading digital art collectives. She is one of the organizers of the Open Source Residency Program at Perte De Signal. She was the coordinator of L'oeuvre ouverte – the 2nd international PureData Convention ('07) and a delegate at The Banff New Media Institute's Grounding Open Source Hardware Conference – the first Open Source Hardware summit ('09). Most recently she established the DARDI_2000 Mentorship Program in partnership with STEIM – Studio for Electro-Instrumental Music, Amsterdam (NL).