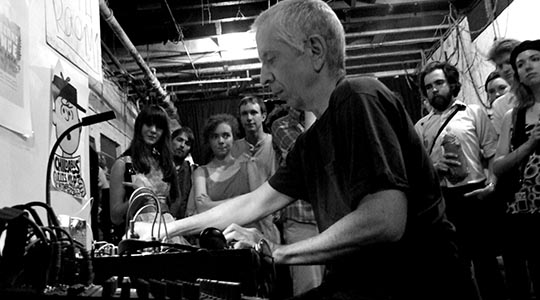 Synthesizer improvisor and experimental composer Charles Cohen produces solely on a vintage Buchla Music Easel synthesizer, a rare integrated analogue performance instrument created in the early 1960s by synthesizer pioneer Don Buchla. Cohen's intuitive approach to making music combines the spontaneity, energy, and rhythm of free jazz with the sonic possibilities of synthesizers.
His approach to his synth yields a remarkably varied sound palette that features "tinfoil snare noises, glockenspiel-like chimes, percussive polyrhythms and big swathes of fuzz" (The Wire). Cohen released two albums as Ghostwriters with Craig Anderton and Jeff Cain in the 1980s, but a decade later shifted his focus almost exclusively to playing live improvisation that went largely unrecorded. He has collaborated with Rex-X-Ray and George Amana as The Masterpulsers, playing an all-electronic, sequencer-based surrealistic repertoire, and in the 90s he, Jason Finkleman, and Geoff Gersh played the NYC Knitting Factory every month for almost two years as Straylight, with various well-known jazz players of the city's downtown scene as guests. He also participated in composer Pauline Oliveros' "deep listening" initiative and band. Cohen was awarded a PEW arts fellowship in 2011, but up until very recently, has flown below the public and critical radar.
December 2013 saw increased recognition for this pioneering artist's decades of work with the release of a three LP retrospective on Morphine Records, curated by label head Rabih Beaini. The compilation culls together vestigial compositions from Cohen's early years as a sound designer in theatre and dance to more recent collaborations with hair_loss (aka Kenneth_Lay, one half of the duo Metasplice) as Color is Luxury, and also includes a 12" remix of Cohen's 1979 recording "Dance Of The Spirit Catchers" by Beaini, who produces and performs as Morphosis.