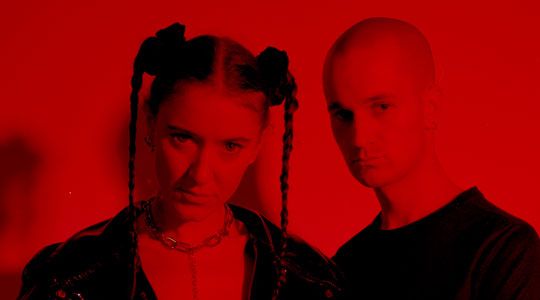 Agnes Gryczkowska and Alexander Johnston are NAKED, an industrial noise duo hailing from the UK. This past October, they released Total Power Exchanged on Halcyon Veil, a record built from the sounds of sex and vomit, among other noises.
Taking its title from a masochistic practice, Total Power Exchange refers to a sexual relationship or activity in which there is the submissive and the master, a power dynamic that can also be taken as metaphor for socio-political control. This forms the firm bite of NAKED's acerbic release, which subjects the listener to a barrage of unpleasantries/ecstasies in the destructive maul of "Unleash Me", then drowning them like "Yellow Tears" in the cistern with the paso-doble, flashcore battery of "Spit".
NAKED's live performances are an integral part of their practice – they penetrate, caress, and obliterate all senses. Raw yet emotional, their live presence is characterised by its extremes. Gryczkowska's confrontational approach destroys the boundaries between performer and audience, backed by the raw power of electronics.
Their output includes an alternative national anthem of sorts, in which Gryczkowska recorded herself singing various national anthems while vomiting – a searing critique of nationalism as an illness. Their album Zone was released in 2016 via LuckyMe. The duo have worked with Mykki Blanco, and have performed alongside the likes of Merzbow, IVVVO, and Soda Plains, everywhere from London's Serpentine Galleries to SXSW.
---
NAKED are supported by the 2018 SHAPE platform, which is co-funded by the Creative Europe programme of the European Union.