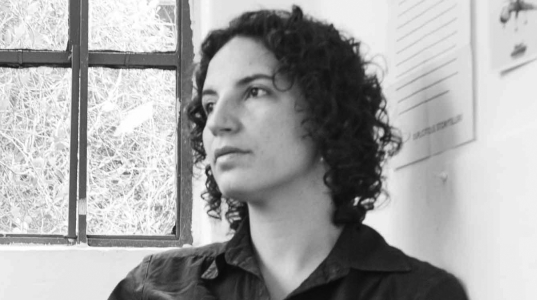 Verónica Gerber Bicecci is a visual artist and writer. She has led workshops on visual writing, abstract writing, and mural writing in numerous institutions across Mexico, as well as courses in the theory of art and drawing in higher artistic education programmes. She is an editor with Tumbona Ediciones, a publishing cooperative with a catalogue that explores the intersections between literature and art, and coordinates the Seminario de Producción Fotográfica (photographic production seminar) at Centro de la Imagen.
Verónica Gerber Bicecci has published the books Mudanza (Moving Out, Ed. Auieo/ Taller Ditoria, 2010) and Conjunto vacío (Empty Set, Ed. Almadía, 2015). In other formats, her most recent pieces include "Los hablantes" (The Speakers, Museo Amparo, 2016, and MUAC, 2014), "Conferencia secreta" (Secret Lecture, Hay Festival Kells and Museo MACO Oaxaca, 2015; DePaul Univesity, 2014), "Poema invertido" (Inverted Poem, Museo Experimental El Eco, 2013), and "Biblioteca ciega" (Blind Library, Centro Cultural de España, 2012).
The artist has participated in interdisciplinary residences at OMI International Arts Center (US), Ucross Foundation (US), Santa Maddalena (Italy), and the Sommerakademie im Zentrum Paul Klee (Switzerland). She obtained a BA in visual arts from the ENPEG, "La Esmeralda" (Mexico's national school of painting, sculpture, and printmaking), and an MA in art history from the UNAM. In 2013 she was awarded the third Aura Estrada prize for literature; and in 2014 she received an honorable mention in Mexico's national award for essays about photography.