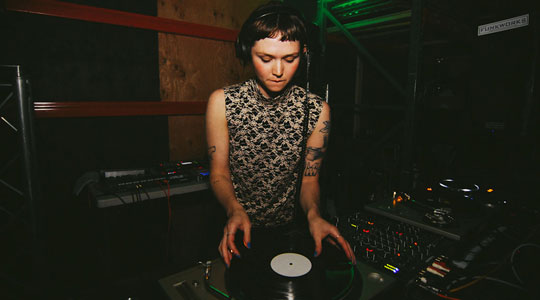 Producer, DJ and Discwoman co-founder Emma Burgess-Olson aka Umfang was born in the Bronx, grew up in Kansas and has been living in Brooklyn since 2010. Her monthly residency Technofeminism at Bushwick's Bossa Nova Civic Club focuses on emerging local talent and an affection for vinyl.
Umfang's sets have graced the dancefloors of break-out parties Sustain Release and Fine Time LA, and she also recently DJed a 7-hour open-to-close affair at Pittsburgh's Hot Mass. In recent years she's gained notable attention for her own amorphous, polyrhythmic techno productions. Vancouver's 1080p released the 2015 cassette OK and the 2016 12" Riffs; her self-titled debut album came out on London's videogamemusic in the form of a limited-edition cassette in 2015; and a split cassette with Philippe Vandal, Wanda Group and Cold Clouds was published by Denmark's Phinery Tapes this past April. Her up-tempo house banger "Need Yr Luv" was featured alongside tracks by Via App, Galcher Lustwerk, and Terekke on a compilation for Physical Therapy's Allergy Season this past year.
Burgess-Olson founded Discwoman together with Frankie Hutschinson and Christine Tran in 2014. What started as a two-day festival at Bossa Nova Civic Club has since blossomed into an international collective of over 150 DJs and producers. The initiative fights for increased representation and equality for cis women, trans women, and genderqueer talent in the electronic music world.