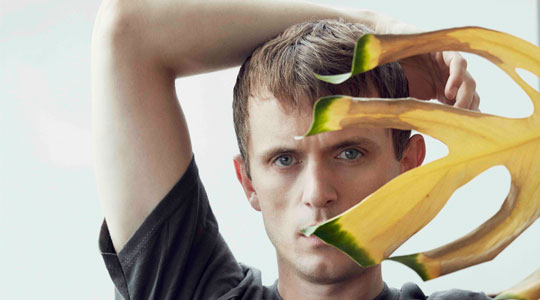 Norwegian singer and performance artist Nils Bech has always worn his heart on his sleeve. On his latest album, he continues to push the boundaries of pop and art music by combining classical vocals with glossy, hi-tech club music.
Raised in the small village of Vikersund in southeastern Norway and currently based in Oslo, Bech has established himself as one of the country's most original artists. His first three LPs—Look Back (2010), Look Inside (2012) and One Year (2014)—earned critical praise for their honest and self-reflective lyrics. The latest entry into his catalogue, Echo, arrived in 2016 on vaunted New York label DFA. The album saw him partner with rising Norwegian producer Drippin, whose futuristic club tracks, spinning off from rap and hip hop, are juxtaposed with Bech's vulnerable and classically inspired bass-baritone. "I wanted to make an album where romantic harmonies meet hard beats, with sudden transitions between the painful and the beautiful. Just like love," Bech said. While his three previous albums were about his own personal experiences, Echo is "echoes" of the people in his life over the past five years—their searches for love, and the capacity of love to deceive, destroy and unlock potential.
Bech has performed at art openings and events around Europe and the United States, including the Venice Biennale, ICA (London), New Museum (New York) and the Van Gogh Museum (Amsterdam). He has also featured in two plays at the Norwegian National Theater, most recently in Shakespeare's Richard III, where he performed excerpts from Echo.