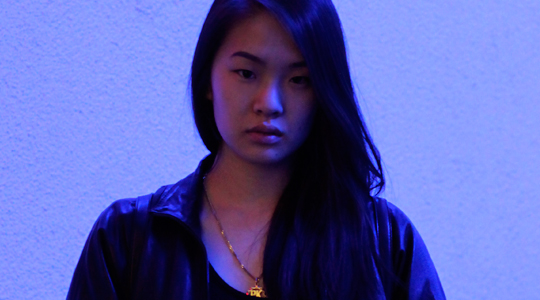 Berlin-based, Munich-born Bao-Tran Tran or mobilegirl is an affiliate of STAYCORE, a label launched by Stockholm-based producers Dinamarca and Ghazal and Scandinavia's darker, outward-looking answer to the marketability of London's PC Music. Favoring dancehall, dembow, kuduro, and soca grooves, the label has taken artists like Toxe and Mechatok under its shiny wing.
mobilegirl shifts tempos and adds triplet bleeps and bloops, metallic crunches, or reggaeton kicks to turn R&B classics into futuristic Afrocarribean dance tracks. She has zapped hits by the likes of 90s idols TLC and J-Lo, and her remix of Brandy's "Angel in Disguise" was included on STAYCORE's hit Summer Jams 2K15 compilation. She first attracted attention with her remix on Dinamarca's No Hay Break EP. In her recent cut "GGC," mobilegirl samples Missy Elliott's "Work It" as an intro but breaks away into a catchy reggaeton/trance hybrid. Though best known for her reworkings and remixes, she also whips up playful, tidy, and introspective tracks from scratch.
Tran Tran recently played her 3rd Boiler Room show of the year at the Weekender in Lake Harmony, Pennsylvania, making her the artist with the most BR appearances of 2016. She is often seen playing b2b with long-time friend and labelmate Mechatok, who will also appear at CTM 2017.
mobilegirl has performed in cities all over Europe, including London, Stockholm and Krakow's new club 89, and at festivals including CTM (2016) and Unsound. She recently completed her first tour of Asia, with shows in Taipei, Seoul, Hong Kong and Shanghai.