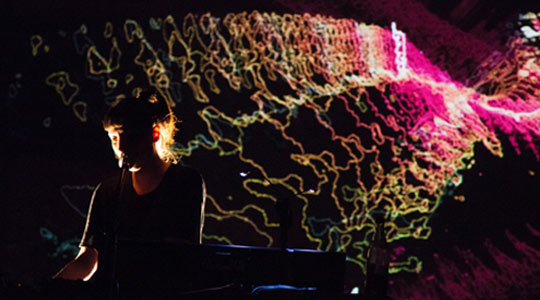 Kathy Alberici is an experimental musician whose work inhabits the charged space between noise, soundscapes and drone. Originating from Brighton, UK, she cut her teeth in the psychedelic kraut-doom outfit Drum Eyes before relocating to Berlin, where she is an active member of the Small But Hard collective.
Alberici's solo work as Bocca al Lupo is a form of process music that progressively manipulates, recycles and deconstructs sound to reveal its many faces, employing analogue electronics and tape to create a hallucinatory amalgam of strings, synth, and voice. In addition to playing regular shows in Berlin and throughout Europe, Alberici has released music independently and in collaboration with musicians such as Jan St Werner (of Mouse on Mars), with whom she developed the electronic opera "Miscontinuum" (Thrill Jockey, 2015).
Alberici was the winner of the 2013 Berlin Current commission together with analogue filmmaker Martha Jurksaitis. For the commission she developed the project A Sonic Portrait of the Funkhaus Nalepastraße, which used mixed-media methods to capture the history and ecology as well as the sonic, visual and atmospheric environments of the home of the former DDR National Broadcasting Corporation. The completed piece premiered on Deutschland Radio Kultur in 2014. This year she returns to CTM together with visual artist Ana Nieves Moya and multidisciplinary performance artist Rima Najdi for the project "Happy New Fear" through the festival's Radio Lab programme. The project explores an urban landscape of anxiety and examines the multiplicity, uncertainty and contradictory temporality of emotions.
---
Kathy Alberici appears at CTM through the CTM Radio Lab, an initiative created together with Deutschlandradio Kultur and supported by the ORF Austrian Broadcasting service, SoCCoS Sound of Culture Culture of Sound, and the Creative Europe programme of the European Union.