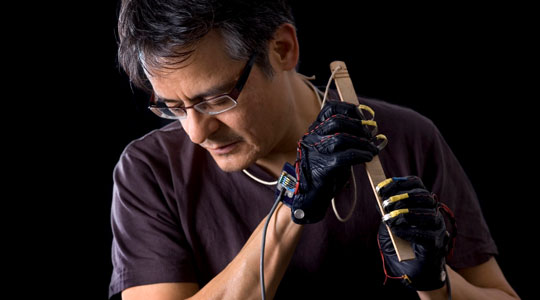 Composer and multimedia artist Carlos Sandoval was born in Mexico City in 1956 and holds dual Mexican-German nationality. His work is known for its synthesis of art, nature and technology. He is a fellow of the Mexican Sistema Nacional de Creadores (1999 to date), one of the most important recognitions from the Mexican federal government for outstanding artistic trajectories.
Having abandoned his studies in classical guitar and composition at Escuela Nacional de Música UNAM (1976-79), Sandoval went on to study composition, analysis and theory privately with Julio Estrada from 1985 to 1990. His first project in Germany, "Mextoys" (2003/04), constituted a breakthrough in his career—it was his first true "phenomenological" work, his first full multimedia piece and his first work joining video and music into a single conceptual and constructive layer. This point marked Sandoval's departure away from traditional score-writing and deterministic thinking. Accordingly, it was evidence of his increasingly experience-oriented cognitive approach to music and cognitive, Piagetian approach to animism towards music and life in general. It employed concepts like "lifework," "empathy and subjectivity," "evidence," "intuition," "intentionality of consciousness" and, last but not least, techno-ethics.
Sandoval's works have been commissioned or programmed in some of the most important festivals worldwide, including the Donaueschinger Musiktage (1992 and 2015), the Huddersfield Contemporary Music Festival (2007) or the ZKM Imatronics Electronic Music Festival (2014). His recent commissions have come from the German NDR, ensemble Mosaik, the Forum Zeitgenoschischer Musik Leipzig, the Grazer Kunstverein and the Fundacion Alumnos 47.