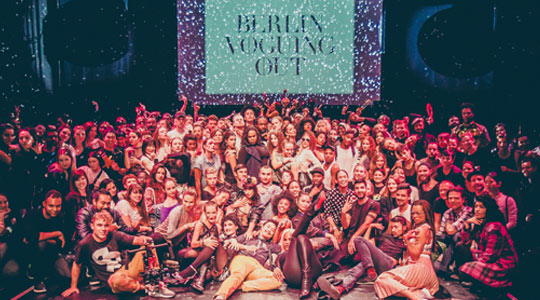 Voguing is a unique and highly stylized modern house dance that evolved out of the Harlem ballroom scene in the 1960s. The dance, which gained mainstream attention in 1990 through Madonna's song and video "Vogue" and the award-winning documentary Paris Is Burning, is characterized by its Vogue magazine-inspired, model-like poses.
These poses are then integrated with complex angular, linear, and rigid arm, leg and body movements. The dance maintains a complex of subcategories and styles—"old way," "new way," "runway" and "vogue fem"—and is continually being developed, mainly in the LGTBQ community and the gay ballroom and club scenes.
Voguing arrived in Berlin after pioneer Georgina Mother Leo Melody founded House of Melody, the first German voguing house, in 2012. That same year, the one and only Berlin Voguing Festival, which is proudly celebrating its fifth anniversary, was founded by Mother Leo Melody and Mic Oala.
Berlin Voguing Out will be treating us all to a lesson in how to see, be seen, strut and vogue it out. Berlin is burning.