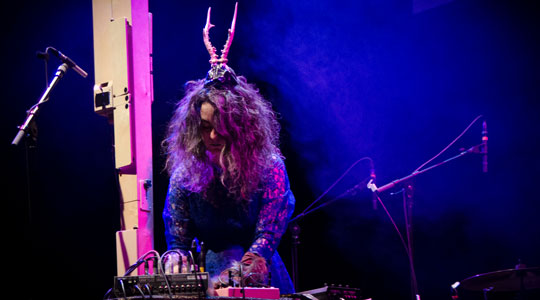 Using field recordings, radio and cassette devices, composer and sound artist Angelica Castelló journeys through the enigmatic land of lost memories, death and traumatic encounters. Born in Mexico City, Castelló studied classical recorder in Montreal and Amsterdam before settling in Vienna, where she currently lives and teaches.
A self-described "interpreter of old music," her work is nonetheless situated in the fields of new and electroacoustic music. On albums for labels such as Interstellar, Mikroton and Monotype Records, Castelló gathers together piles of sonic material—from recordings of her own instruments to the works of old-world composers like Bach, the sounds of experimental circuit-bending, objets trouves and more—and processes them electronically, sometimes beyond recognition. Dozens of distinct sonic layers are then superimposed over one another and sculpted into shape, emerging as both alien and familiar.
In addition to electroacoustic composition, Castelló creates radio works and installations synthesizing music, performance and visual arts. She also writes for her own instruments, primarily the Paetzold bass recorder, and for ensembles. She co-founded the Low Frequency Orchestra as well as many other ensembles with whom she has performed with across Europe and America. She is also the founder and chief curator of the contemporary concert series Neue Musik in St. Ruprecht, which takes place in Vienna's oldest church. In 2014, she was awarded the Outstanding Artist Award by the Austrian Federal Ministry for Arts and Culture, followed by the State Stipend for Composition in 2016.