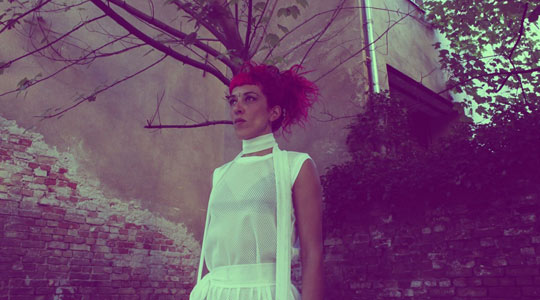 Ana Nieves Moya is a Berlin-based Spanish visual artist whose bold, psychedelic works play fast and loose with fluorescent colour and light, kaleidoscopic patterns, pixelation and found VHS footage and digital animation.
Inspired by live performance and the fusing of modernity and tradition in music and dance, Moya has created digital flyers and video projections for parties, concerts and cultural events across Europe. In 2013, she co-founded Kater Krank Productions, where she produces short films, videos and commercial spots. Her work has been shown at exhibitions and festivals across Europe, including AIWA! and the Boddinale independent film festival in Berlin, and she has collaborated with music collectives and artists such as Caballito Netlabel, Eck Echo Berlin and Alegría Berlin.
Moya holds a degree in Fine Arts from the University of Castilla-La Mancha and an MA in Visual Arts and Education from the University of Granada (2011). In 2016, her project Happy New Fear, created alongside Rima Najdi and Kathy Alberici, was selected for the Sundance Institute's Theatre Lab residency program in Morocco.
---
Ana Nieves Moya appears at CTM through the CTM Radio Lab, an initiative created together with Deutschlandradio Kultur and supported by the ORF Austrian Broadcasting service, SoCCoS Sound of Culture Culture of Sound, and the Creative Europe programme of the European Union.